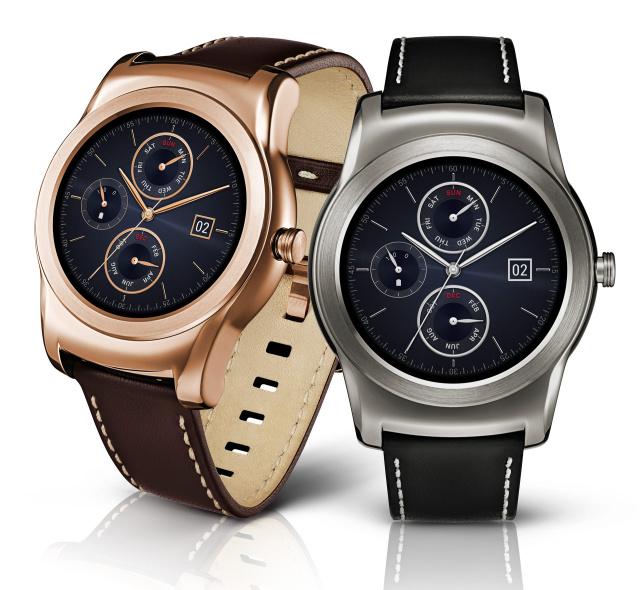 LG at the Mobile World Congress event unveiled the all new LG Watch Urbane. The Urbane is a fully functional smart watch running Android that is encased in a luxurious case coupled with a leather strap.
Urbane is housed with a OLED display of 1.3-inches & powered by a 1.2GHz Snapdragon 400 CPU with 512MB of memory. Currently available in the two iconic silver & gold finishes. As of current the pricing & shipping information is yet to be announced. LG's watch features an all metal design which is much more durable & timeless as far as aesthetics go. So far the long awaited Apple Watch coming in April is the closest we've seen to this sort of design. Urbane strikes this balance of a classy timepiece with the hardware & software of a 2015 smart watch.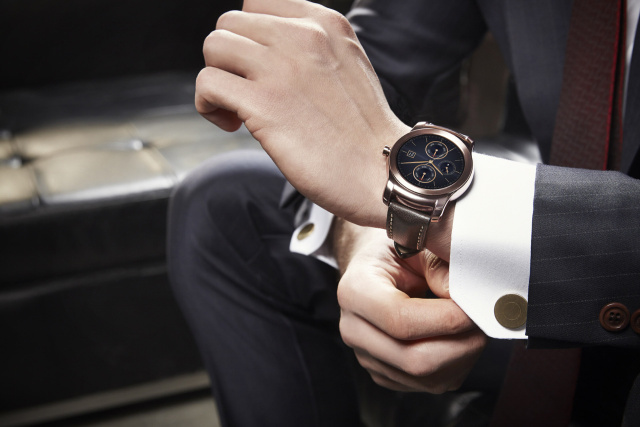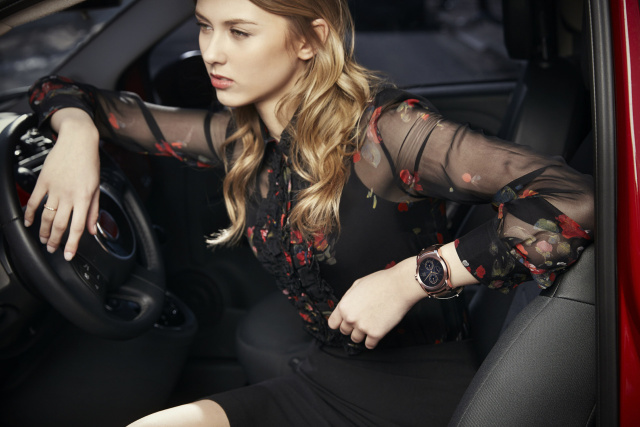 As a time piece enthusiast myself I really enjoy the simplistic approach to the design while coupling advanced technology in the watch. They're definitely advertising it as an everyday sort of wear be it for a casual or more formal like event. This is how I see a smart watch personally fitting into society. Something that is an extension to our technology we already have & exists in a seamless fashion of something that looks & feels familiar but functions efficiently.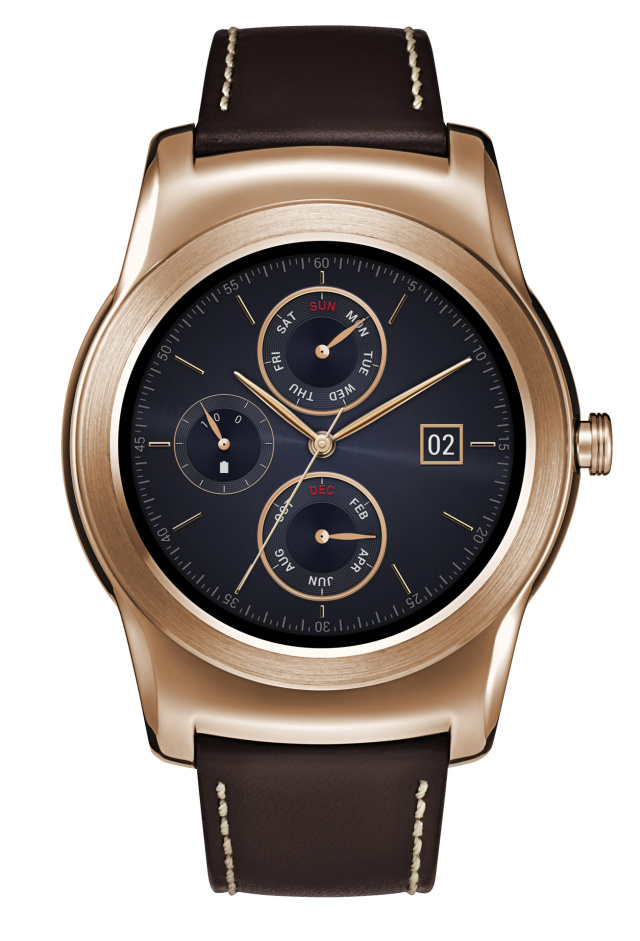 Further tech specs reveal it'll be sporting a 410mAh battery, the screen will featured a 320×320 resolution with a touch screen interface & possible navigation with the crown, a heart sensor, & will be water/dust resistance. Software wise it'll be running standard Android Wear.
All in all this is the technology smart watch culture clashing with the classic time piece & producing something that is not only visually appealing but highly technical & useful at its core. As time goes on & the rest of the competitors ramp up production of their smart watches we'll see how the space plays out. Until then LG Urbane watch certainly sits up there with Apple's Watch in terms of elegance & sophistication while being coupled with great technology.

I've used Fiverr for nearly 2.5 years now, first introduced by a good friend Duncan Maile about the site & it's vast marketplace. Whether your a seller or buyer your bound to find some use out of Fiverr for kick starting a project, making things work on a budget, or just earning anywhere from a part time to full time income.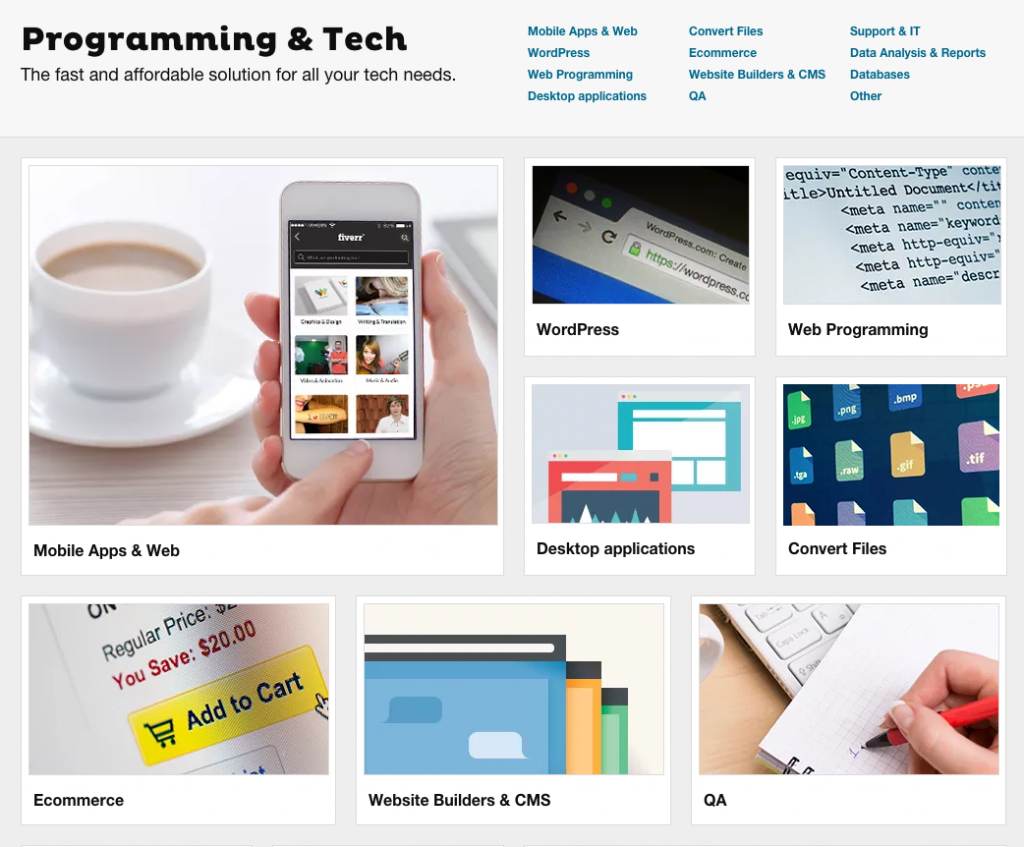 Fiverr is an online marketplace where people do specific tasks for a "Fiverr" or $5 USD. The idea being gigs are "I will _____ for $5".  These gigs can be anything from produce a video, design a logo, record a voiceover & thousands of other gigs. On the other end you can of course sell your service to customers for $5. Now while this is the base price there are many add ons that allow sellers to make more.
Gig Extras: Are extra services offered within a gig for more money (increments of $5) so for example I have a extra within my gig that allows for rendering a video in 1080P for an additional $10.
Custom Orders: This was recently introduced but allows for clients for bigger scale projects allow for custom orders.
All of these are unlocked as you climb the tier of levels for Fiverr sellers.
The site itself is filled with various categories that are sure to fill your needs one way or another.

Another great aspect of the site if your a buyer you can post out the type of job you need done to help find the correct sellers.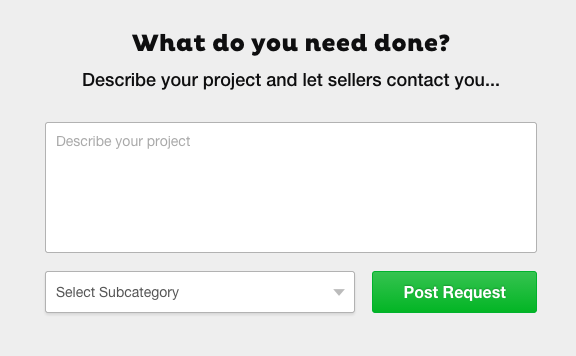 All that said I've made several thousand dollars from Fiverr in the past. An experience that has taught me a lot about the service & site itself. Fiverr is a great way to take something you may be talented or skilled in & offer it for a side income. Dedicating more time you can make a considerable amount of money. At the same time I've had my quarrels with the site. As someone who transitioned to a client services business ScreencApp there's a bit of a gap when it comes to Fiverr & the real world client services business. Typically in my experience the transition to have people who pay less than $5 for a gig aren't usually interested in spending anything 10x that cost.
The old adage still stands however be willing to pay for quality work. So whether your a buyer or seller always keep these things in mind.
As a buyer know your only paying usually $5 for a service expect that & nothing more. Of course there are standards and such but don't expect $1,000 quality for $5 worth of work
As a seller do your best to hold your satisfactory level with your clients to a high but don't offer the impossible for prices that aren't premium
In the future I'll dive deeper into some things I've learned along the way on the service.
None the less Fiverr is a very popular service & great platform to get started. If your a entrepreneur on a budget & looking to get simple things like a logo, website, graphics & other material set up than for under $100 you can get a lot done via Fiverr. In the same respect as a seller I've had many other doors open up from the site. Frequent clients of mine went on to contact me to work on various other projects & or bulk orders. Thats one of the big advantages of the network despite the smaller payout compared to normal you have access to thousands of clients looking for sellers.
So in summary if I had to round up my experience of the service overall in my time using it:
Pros:
Access to a wide client base
Potential for expansion
Great way to establish side income/full time
Affordable method for finding certain services
Cons:
Payout delay is a bit long
Customer Support is a hit or miss in my experience
Their $5 Gig material at the end of the day which depending on your seller can be a really great or not so great experience
Fiverr is a very massive marketplace which I think you'll be able to utilize whether you want to be a seller or buyer. That said if your interested in signing up & giving it a chance check out my link below to get a free gig. Additionally feel free to check out my gig page where I still offer basic gigs on their service.
Sign up today & get a free gig!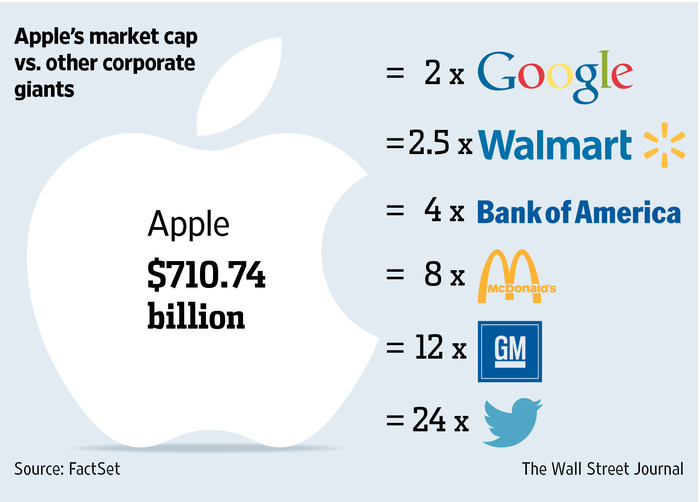 Apple has just closed with a market value surpassing $700 billion the first company ever in history to do so. The technology empire is now the first ever company to surpass such a milestone beating out the likes of Exxon Mobil, Microsoft, and Google. Recently disclosing their record breaking earning of $18 billion out of the $74 billion revenue they made silenced much of the press that forecasted Apple's doom.
At the course Apple is going & with projected growth and product launches it isn't inconceivable to think that they'll be the first trillion dollar company.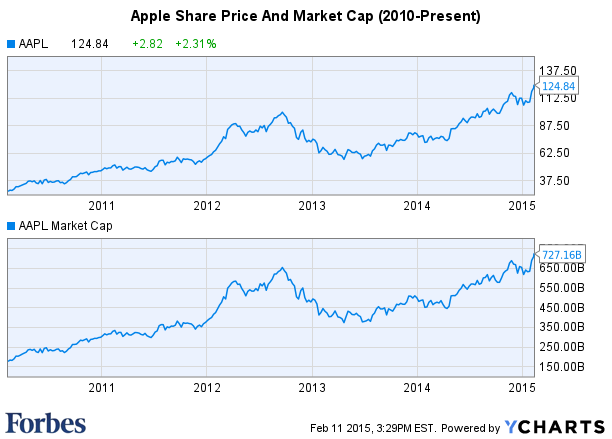 To put things into perspective Apple as a company has the power to buy out its rival competitors such as Google or Samsung or for that matter both at their current market caps & still have billions left over. No big deal.
The bigger question going forward is their growth & future of the empire. With product launches such as the Apple Watch, future iPhone launches, and other avenues Apple may dive into can only lead to larger revenues. The question isn't so much as what they'll do from here but how high can the company go. Tim Cook Apple's CEO recently made claims that they're heading into their "biggest & boldest project ever."  with their recent investment into First Solar of $848 million to build a 1,300-acre farm of solar energy to power their all new HQ in California. This will lead to energy cost savings over time & ultimately money (not that they're at loss of that).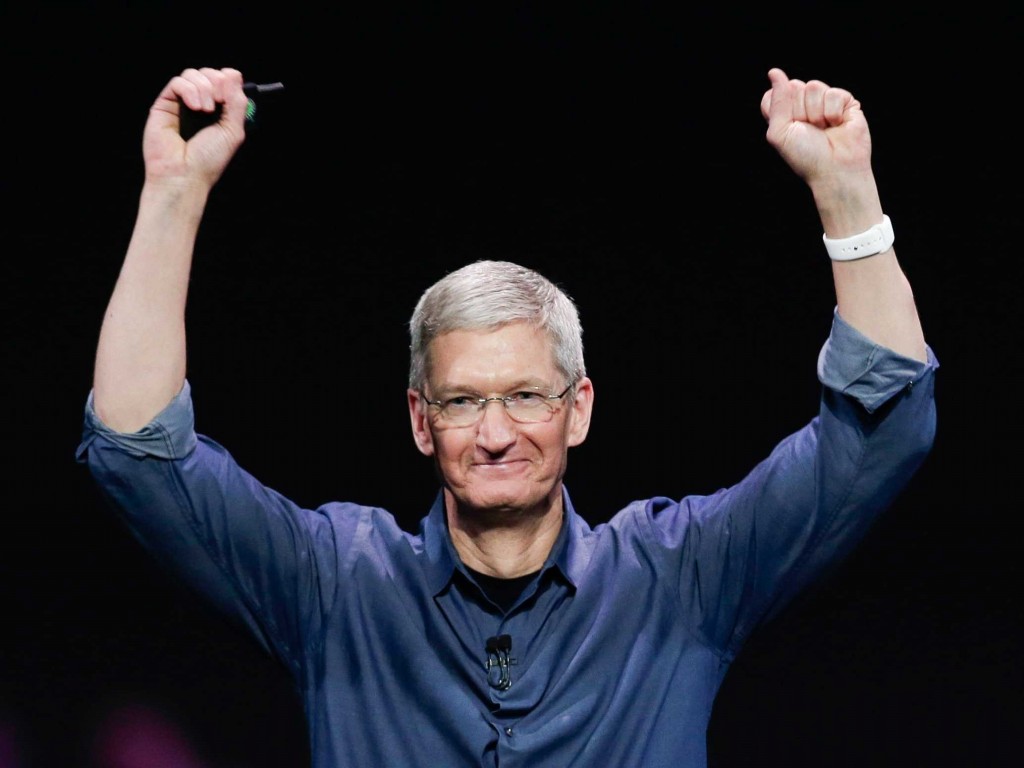 Tim Cook recently went on to state in his interview at Goldman Sachs that he believe Apple can keep up their growth. More importantly that like Steve Jobs before him that Apple doesn't believe in limiting themselves.
"We don't believe in laws like the law of large numbers, Steve ingrained in us that putting limits on your thinking is never good."
So whether its the Mac, iOS, or some other ecosystem Apple will focus on going forward we're more than positive they'll excel. Setting a new bar for competitors not just in the technology space but worldwide.
Thus begins the journey for the first ever trillion dollar company.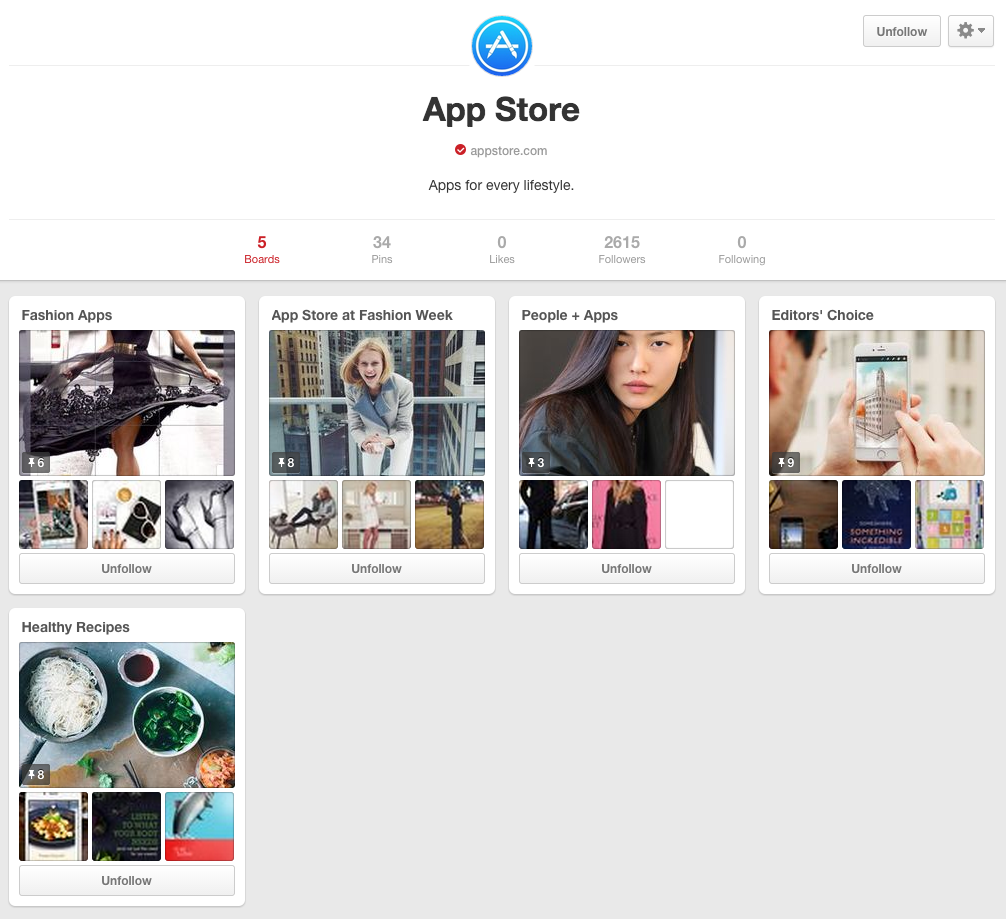 The popular social networking site Pinterest thats popular for its visual pin boards now adds a new feature "App Pins". This feature allows for users to add apps to their pins which adds an install button that does allows the app to be downloaded without being taken out of the Pinterest experience.
Apple in conjunction with this feature release has taken advantage by making an official AppStore board with their own pins of featured apps.
This all of course only displays within the iOS app itself. Taking you directly to the app page within Pinterest to download said app. The new feature can prove to be a big push for pinners to showcase apps they enjoy & use. On top of that with a very cluttered AppStore a platform like Pinterest which is highly known for its various categories of boards can take advantage of this feature to cut through the noise. As for Pinterest they could use this model in combination with the promoted pins & ad-market to make some revenue from the new feature. Their users get a feature that makes app discovery & installation seamless which seems to be the trend nowadays. The less friction from point A to B makes it all the much better for the user. With Pinterest growing future already on track to surpass Twitter, new features that enable users to find more of the content they want with ease only strengthens their network.
Any thoughts on the new feature? More over I'm sure we'll see creative ways users will integrate this features into their pin boards.
---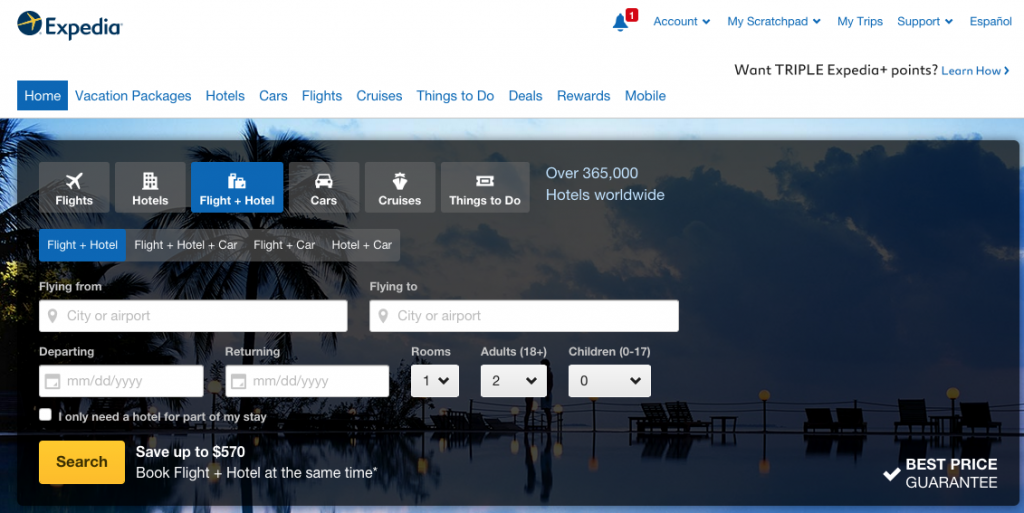 Expedia the global online travel agency network of Expedia.com, Hotels.com, Hotwire.com, Travelocity and many more now adds a new name to its roster. They'll be purchasing Orbitz for $1.6 billion (at $12 per share).

Building up Expedia's empire to compete with others in the space. This caused the market prices to shoot up for each of the companies. Orbitz (OWW) going up 24% & Expedia (EXPE) up about 4% since the announcement. The travel mogul has spent the last year buying multiple brands to grow their customer base. Buying out Australia based company Wotif Holdings Ltd & Travelocity for over $800+ million.
Barney Harford CEO of Orbitz & former employee of Expedia had this to say about the acquisition.
Our mission at Orbitz Worldwide has been to build our brands to be the world's most rewarding places to plan and purchase travel. We're excited for Orbitz Worldwide to join the Expedia family and for our teams to work together to further enhance the offerings we provide to our customers and partners. 
Travel industry has been gaining in competition with the sprout of services such as Kayak, Hipmunk, Airbnb & so on. Expedia last week reported their 4th quarter profits which were a bit low due to foreign exchange costs. While Orbitz this Thursday is due to release their quarterly reports so we'll see the insight into how they did Q4.
We'll have to wait to see how the series of acquisitions plays out in the 2015 year for the Expedia empire.
Take note of how the House of Card's official Twitter handled the situation. Genius marketing for an amazing show.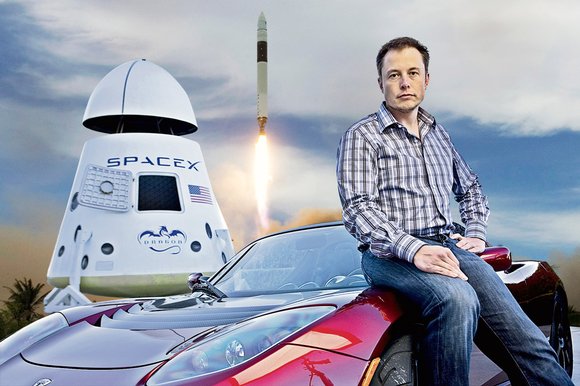 I decided to cover two stories that while in different categories are related in that they're both founded & ran by Elon Musk.
SpaceX a space exploration corporation successfully launched their Falcon 9 rocket out of Cape Canaveral. Set to launch earlier the event was delayed due to weather conditions & some technical difficulties. SpaceX hosted a live broadcast of the launch filled with updates on the condition of the launch along its venture into space.
DSCOVR is set to arrive the Sun-Earth L1 Lagrangian point (930,000 miles from earth) in about 110 days. The idea of course is to collect data such as imagery of Earth, weather conditions in space, and other various amounts of data. Certainly a big event by all means with little to no room for error.
That said other news articles published today criticize or question Musk's focus. Tesla shipping figures released showcase that they've fallen short of their 33,000 Model S goal only shipping so far about 9,384 automobiles. Which Musk has yet to address due to his attention of the Space launch.
Some going as far as calling out Musk for being distracted as Alex Kaufman of the HuffingtonPost stated
Now I fully understand Elon Musk has a responsibility to both companies & in turn the shareholders. But the man literally just oversaw a project to launch a rocket into deep space in order to get information that not many out there are doing & we're creating articles on how he seems distracted?
TheVerge had their own article on the matter sub-headline reading
As the company reports poor earnings, its CEO appears distracted
Again I understand Musk is spread thin but still has to answer for the earnings but "distracted". A man who servers as CEO for both SpaceX, Tesla, and a chairman of SolarCity I think has the right to be a bit distracted. Literally changing multiple avenues in the world of technology & yet we're critiquing him what taking on too much? As Musk has stated multiple times Tesla was never going to be profitable. Thats not their goal. It'll take a lot of money & some adaptations before its profitable. He certainly has to answer for what went wrong in the shipping department as his role of CEO & face of the company. However I think for an individual of his stature & the things he's trying to achieve he deserves a bit more than being taken as "distracted" or what he's tweeting about. Sinking that low to me is what deprives the world of its innovators. Anytime anyone tries to step out of the box to achieve something out of the ordinary & takes on the risk themselves much like Musk did we criticize them for trying.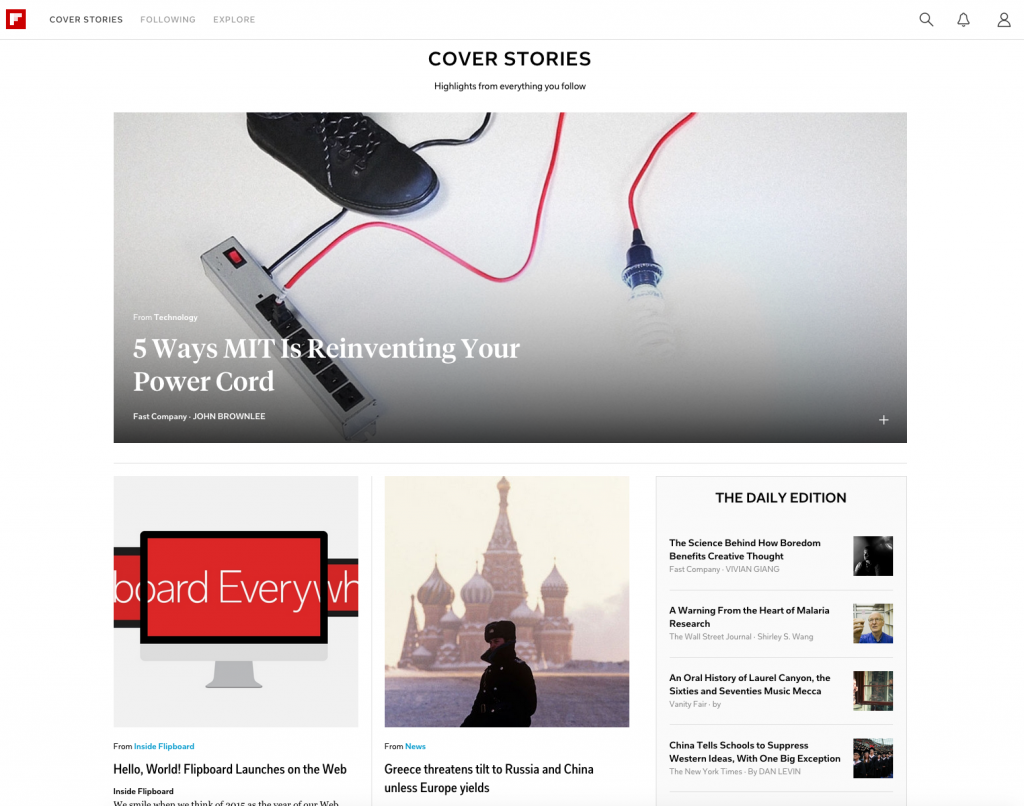 The popular RSS reader FlipBoard known for their mobile apps now comes to the web. A mobile RSS reader that combines form & function into a online magazine interface. The team has now released an official web version that couples the mobile apps very elegantly. It's RSS for the everyday user. You can simply sign in with your FlipBoard login, Gmail, or Facebook. Greeted with a visual experience of cover stories & topics you follow.
It's RSS for the everyday user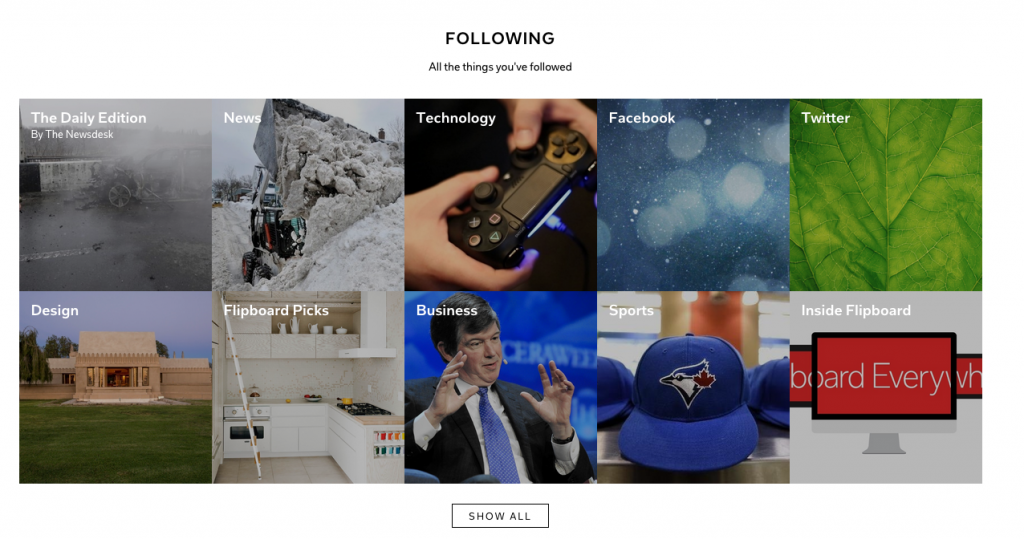 The interface is broken down into three sections. Cover stories, Following, and Explore. The cover stories where you'll be spending a majority of your time is filled with a ton of visual elements scattered with other tiny elements such as "Friends of FlipBoard" & "Magazine Makers". Combining the social elements with your news readers. See what others are making & digesting with a simple click.
You also have the ability to follow other users to see their "magazine". A magazine is a FlipBoard curated by other users so you can follow their interests or daily reads. This can be anywhere from people to topics such as Technology, Sports, and so on.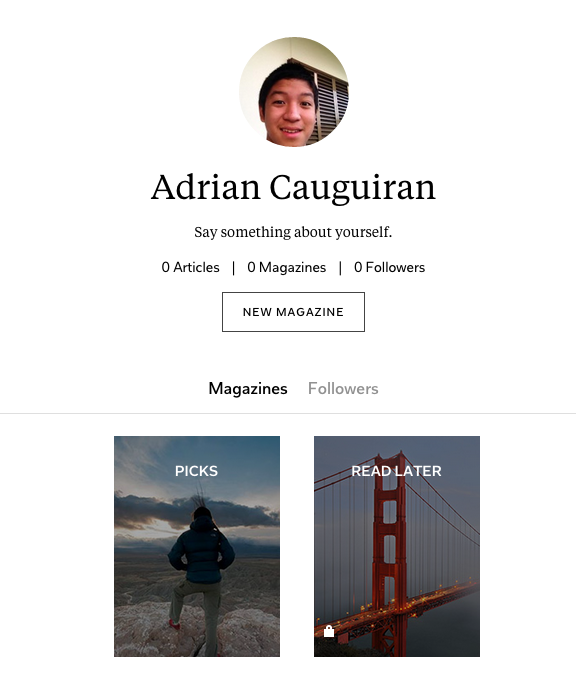 Coupled with that is a profile page that displays all your articles, magazines, and followers.
Last but not least is your explore tab. This is where you can find all sorts of new content to follow & explore the FlipBoard community. With over 34,000+ topics in their library & thousands of more magazines your bound to find something.
Whats best about the new design is responsiveness.Reducing the window to a smaller size automatically resizes the stories to your window. Making the whole experience seamless & easy on the eyes. Showcasing the topics, comments, and "flips". You can hit the plus button on each post to flip it into your own magazine or read it later list to save for later or share with others.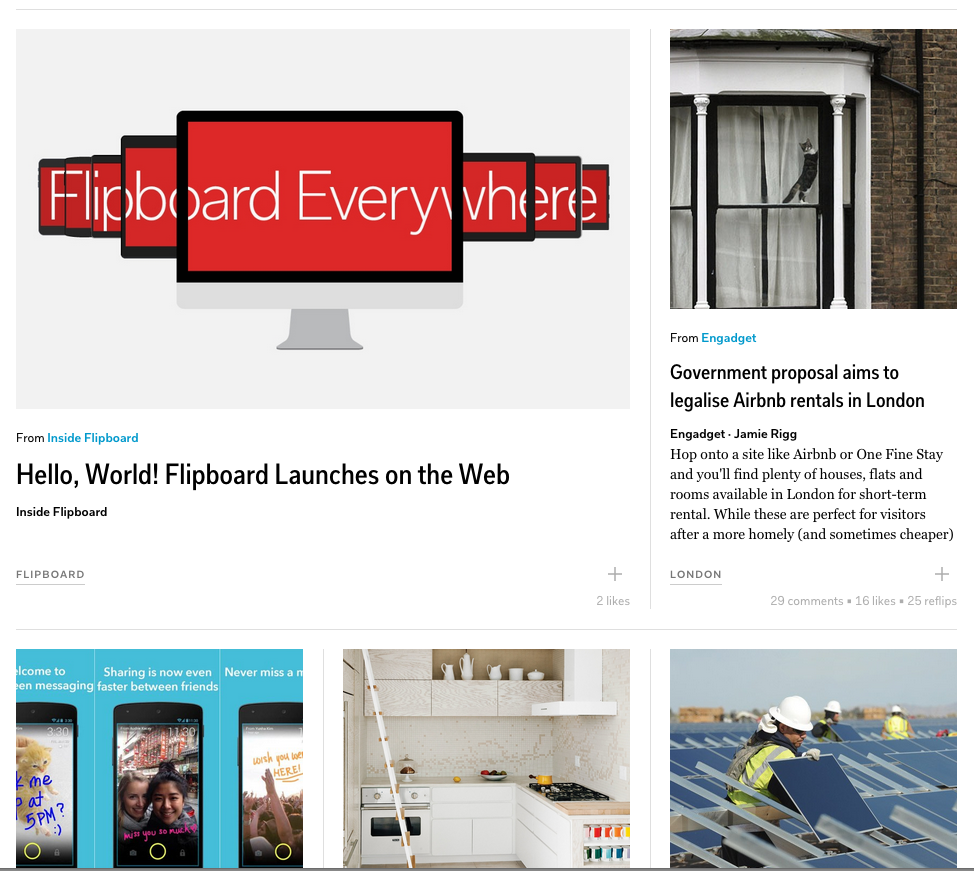 Clicking on each story brings you to the source site for you to enjoy the full article. Overall the FlipBoard team did an amazing job on the web version of an already brilliant designed app. The technical know how that went into building said site is really interesting & something you can read about in its entirety from Michael Johnston an engineer on FlipBoard.  As he states
Now we're coming full circle and bringing Flipboard to the web. Much of what we do at Flipboard has value independent of what device it's consumed on: curating the best stories from all the topics, sources, and people that you care about most. Bringing our service to the web was always a logical extension.
If your already a FlipBoard user than this is definitely worth checking out as a companion to their mobile apps. Additionally if you've been searching for an RSS service thats easy to use & combines that social element with an overall elegant interface then this is the service your looking for.
In this DojoGuide we'll be taking a look at methods to monetizing your website. What exactly monetization means & some methods you can use to implement on your site & make anywhere from a side income to even a full time income with some hard work & preparation.
Video Overview:
What is Monetization?
Monetizing is essentially making money from your site/business whatever it is you may offer. It could be a small blog or a business based site built around an idea. At the end of the day the most important thing to take away from these methods if you implement one or a combination of each is to offer your viewers something of value. Having something to give to your users in the first place is whats key to utilizing the methods we'll discuss.
1- Ad-Banners
One of the most traditional methods of monetizing is advertisement based banners. Think of them as the digital form of billboards, posters, etc. Ads on your site featuring companies, sites, or services in exchange for a cash compensation. This varies into two categories the networks like Google Adsense or independent advertising or the ability to sell your own ad space to sponsors/advertisers on your own. Each have their own benefits to them it really comes down to personal preference in the end. Networks are easy to get started with & offer decent rates if you have high enough traffic but don't always take into account value over CPM.
Popular Ad-Networks:
When it comes to independent campaign in which your either contacting sponsors or selling space on your site take these few things into consideration. Decide what content bests fits your site & audience and look around that industry. With some research you'll be able to find companies, products, or services that'll be interesting promoting their company to your audience. Start by reaching out to companies via their "Contact Us" page in order to pitch what you have to offer. While stats are important here it's also key to define the value your site has to offer them. Be it your targeted readers, amounts of content, and so on.
2- Affiliate Programs
Affiliate programs are another lucrative monetization method that involves your promoting products/services to your viewers & when they purchase said product you earn a commission. Rates vary here from program to program but it's a great way to earn some money promoting products/services you probably already use or cover in relation to your content.
For example if your reviewing a specific group of services such as web hosting you'll most likely be linking off to their sites. If you use an affiliate code provided by those services when a user signs up under your link you can get percentage of that sale. It's a nice & passive income method that can make anywhere from a few dollars a month to thousands of dollars.
Popular Affiliate Programs:
Note that the best way to really promote affiliate sales is by sticking to things you already believe in & or use yourself. Furthermore keeping it inline with your sites normal content helps the readers feel at home when using products you recommend. Cause at the end of the day affiliate programs are essentially referrals. So be sure to promote the services/apps you believe in.
3-eCommerce
The most simple & straight forward method of making money via your site is to sell something. There are countless platforms/services available where you can create a site plug in your product or software & being distributing out to your customers. I highly advise using a service in this case as it handles the technical background of transactions, customers, etc. Leaving you to focus on product & sales.
Popular eCommerce Services:
At the end of the day when it comes to product you have to have something to offer your customers. It can be an app, something home-made, or even products of others. You can focus on a group of products or stick to one specific thing. eCommerce is a big business & works well when you promote your site & whatever it is you'll be selling in a variety of formats. Be it social networking, word of mouth, referral programs, etc.
4- Services
A branch of eCommerce a services based site offers something to their customers in exchange for a flat rate fee or even a subscription model. This is the king of passive income as typically you have guaranteed income based of something you provide access to. This can vary from video courses, access to premium content, and so on. You can get creative here & implement your expertise into a service offered to your clients/subscribers.
There are a ton of ways to set up these membership based sites but the best option in my opinion is via WordPress.
A wordpress installation in conjunction with these plug-ins make for great service based sites.
Membership Plug-Ins:
In summary when it comes to these methods you can choose to use each in some sort or fashion or just stick to one. Offering value around the content you build & offer to your viewers is what builds a good foundation for each of these methods. Enough time, work, and creative thinking can turn these from small side profits to a full time job if implemented correctly. So get monetizing & building your small site to a profitable income.
The company has hired at least 150 former Apple employees, more than from any other company, even carmakers.'
1) This says a lot about Apple's talent if anything.
2) Props to Tesla for taking advantage of just that.