Apple's "Spring Forward" event has just wrapped up & here's a full recap of everything announced. The primary focus of the event was to highlight the Apple Watch which was announced several months ago while also pushing some updates across the mac lineup.
Video Overview:
Opening Figures-
Apple Keynotes are known for their openings figures & sales this event was no different.
Main aspects from the introduction included
Over 120 million people have visited Apple Stores in the last quarter
6 new stores released in China totaling 21 stores
700 million+ iPhones sold
Apple TV-
Cook quickly took the time to touch on the Apple TV updates.
Price reduced from $100 to $70
HBO Now Introduced
HBO Now will be an exclusive deal to bring HBO's content & popular shows such as Game of Thrones to the Apple TV platform for $15 a month.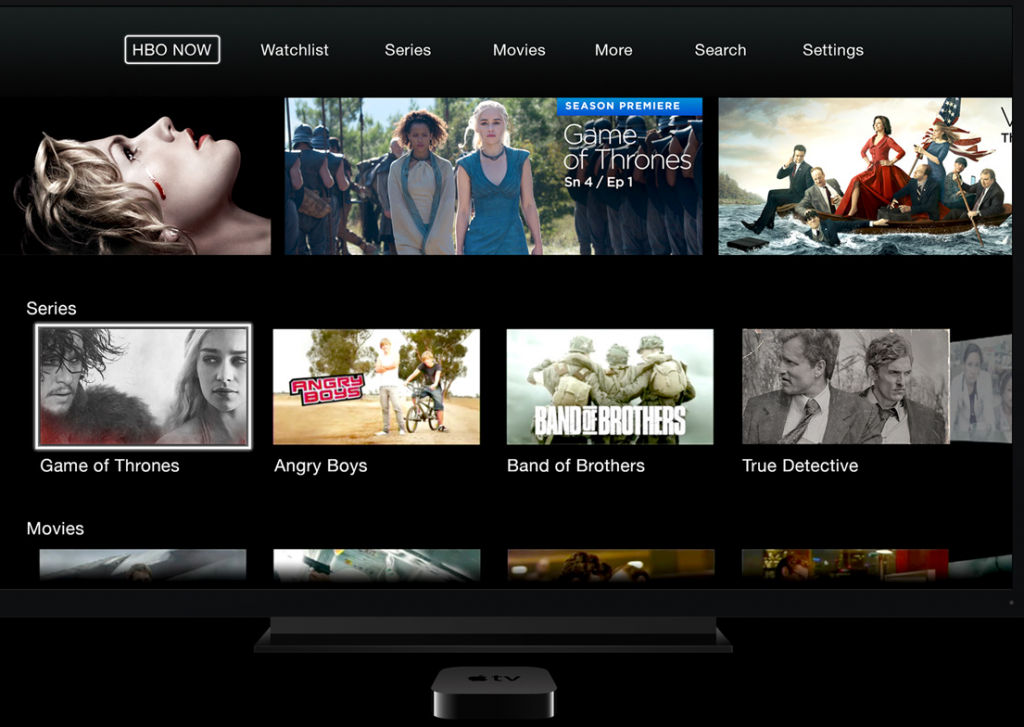 Research Kit-
Tim Cook then introduced Jeff Williams (Senior VP of Operations) to talk about the importance of research kit. Research kit's aim to provide a powerful tool for medical research. Advancing how we gather data & making it easier for app developers to build these amazing applications. They went onto showcase some of these apps behind major diseases such as Parkinson's & Diabetes.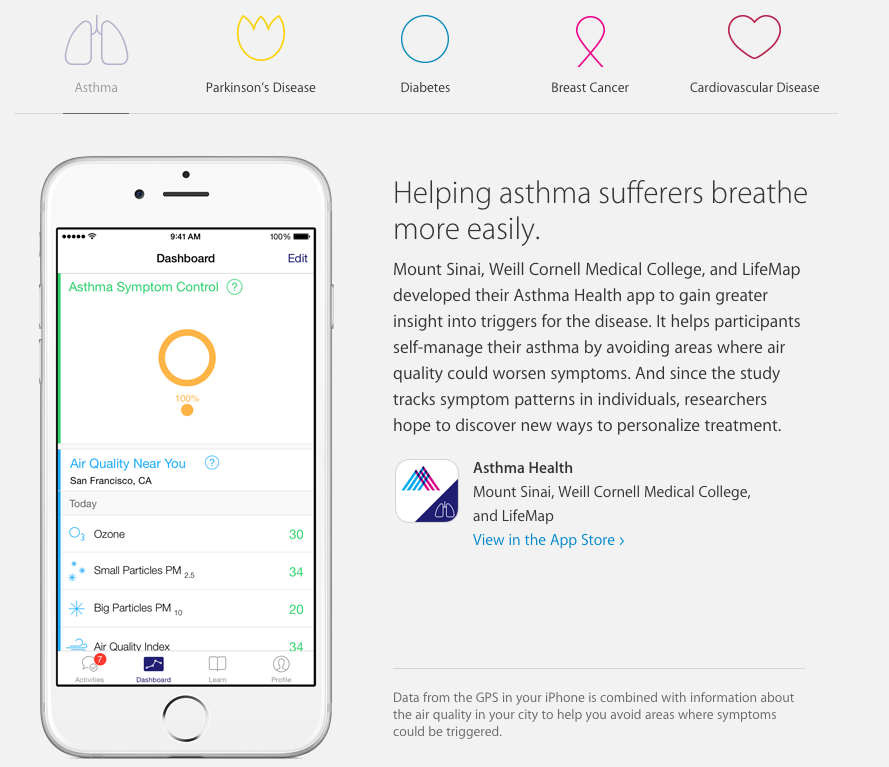 The "New" Macbook-
One of the more surprising announcements was the all new Macbook that'll be in the middle of the laptop lineup. This all new macbook as it was touted is the thinnest laptop that Apple now offers. Redesigned from the ground up to provide a more portable & powerful experience from battery to design.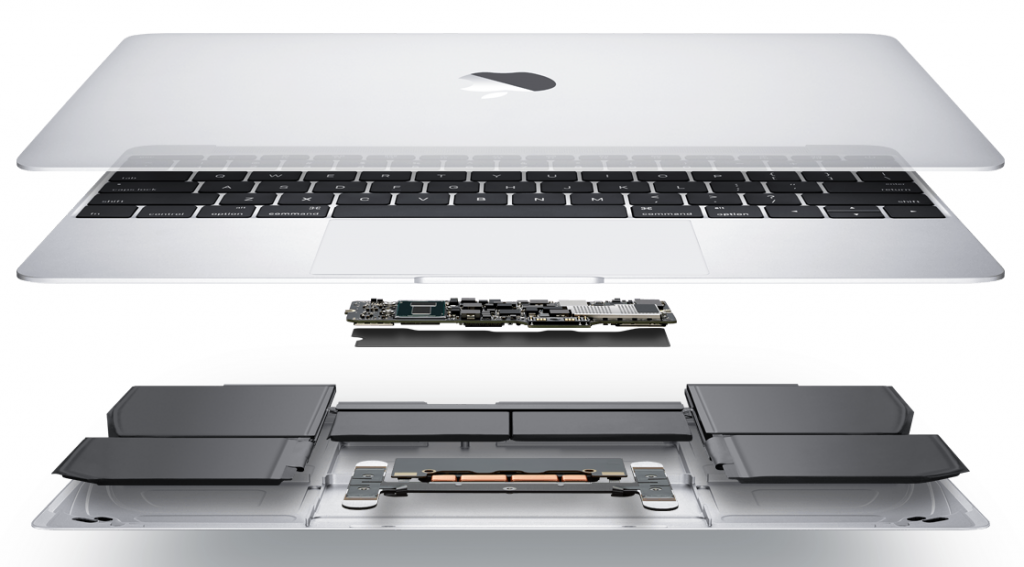 From a pure engineering standpoint this laptop is an amazing feat as far as what they've crammed into while maintaining the power & battery life it offers. Some main takeaways from the Macbook are
$1,299 baseline price
13.1 mm at its thickest point
Available in Gold, Silver, and Space Grey
9-Hour Battery Life (Estimate)
All new keyboard/track mechanisms
USB C- All in one port
The all new profile does come at a cost. Your now limited to one "USB C" port that requires adapters to hook up USB, HDMI, and other devices. So port wise your very limited in this case with no other ports available outside of a 3.5 mm jack for headphones.
Other major technology integrated into the Macbook is the all new trackpad which integrates new sensors & haptic feedback to really verify your clicks/presses. On top of that you can use OS X settings panel to control the tension of the trackpad.
Tech-Spec wise here's the breakdown for the baseline model.
Retina Display 2304×1440
1.1GHz Intel Core M (Turbo to 2.4GHz)
8GB of memory
256 PCIe-based onboard flash storage 
Weight: 2.03 pounds
Wireless: Wi-Fi 802.11ac & Bluetooth 4.0 wireless technology
Apple Watch:
Most of the Apple Watch was already known from a design & information perspective. The two main aspects we were lacking in was the release time frame & price point.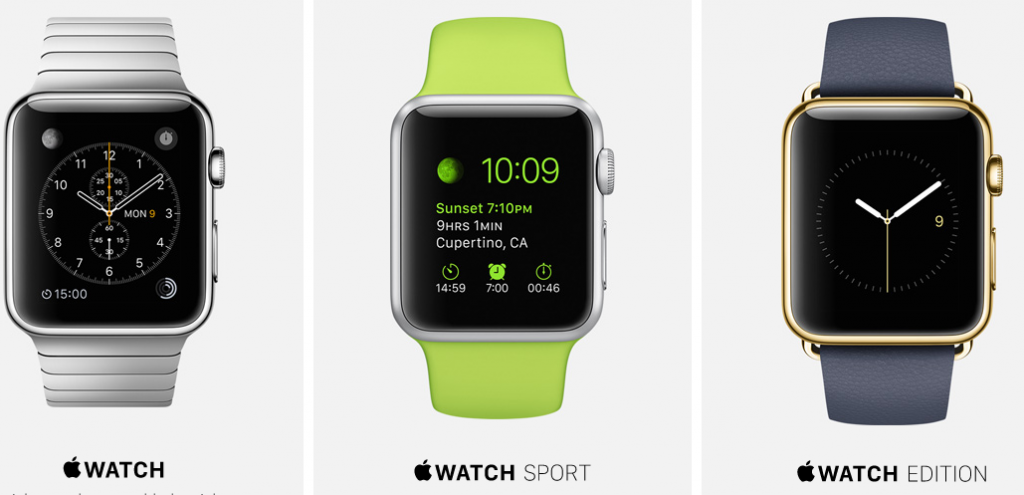 Apple went onto reiterate their idea behind the watch & it being a personal device. They then went onto really specify their materials that go into each watch from the aluminum to steel. Even dedicated a section to showcasing WatchKit's apps that have been developed thus far & how the interaction with the watch may look like.
Then it came down to brass tax.
Apple Sport Watch-
$350 for 38mm size
$400 for 42mm size
Apple Watch-
$550 for 38mm size
$600 for 42mm size
Apple Watch Edition-
$10,000+
Now each watch price not only depends on the size but the bands well from rubber to steel making it a very varying factor with prices across the board. More over the rumors surrounding the luxury end watch edition came priced at $10,000 to start & can go up to even $17,00 based on your customizations. This of course is very niche watch and Apple plans to offer this for a limited time to those who can afford it. Featuring 18K gold by itself already raises the price in this case your paying a premium for the right to own one of the exclusive watch editions. All watches feature the same specs only differing in material which the base is made of.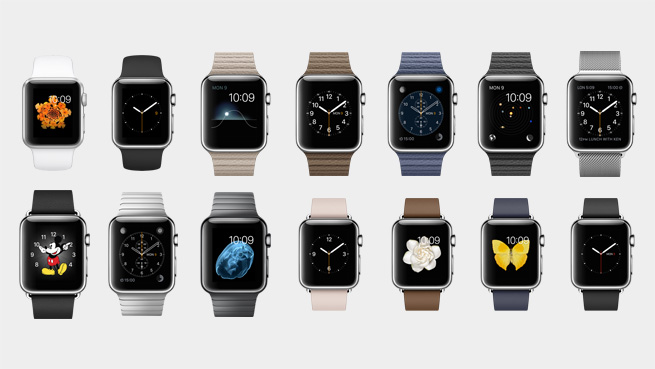 Release date wise pre-orders start on April 10th & set to ship April 24th.
All in all Apple's Spring Forward event was nothing new under the sun. The exception of course really came in the form of the Macbook which leaves much room for question regarding the macs lineup & future of the Air. The Watch front pretty much secured all notions of price & estimated April release time. We got to get a better look at the overall experience & how well it integrates with iOS & the iPhone in general. Acting as an extension of our every day convenience and irony aside give us time back while tracking it.
Stay tuned for more coverage regarding the event & in-depth look at the announcements.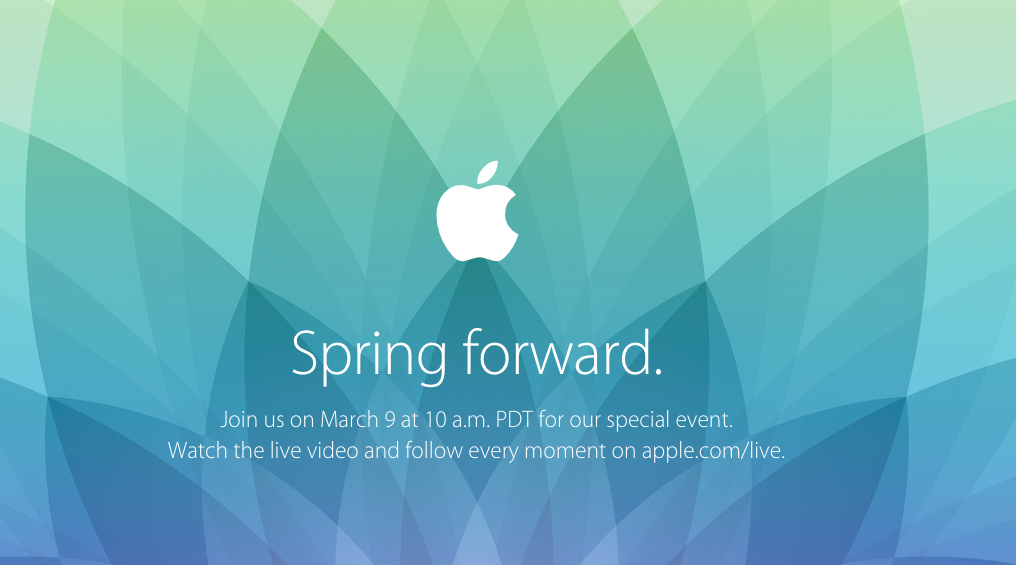 Apple has announced their March 9th event with the headline "Spring Forward". The event will be live streamed via their site on March 9th at 10 a.m PDT. Timing wise its more than likely this event will center purely on the Apple Watch. Giving us further details on the product that was announced months ago with little details surrounding areas like price.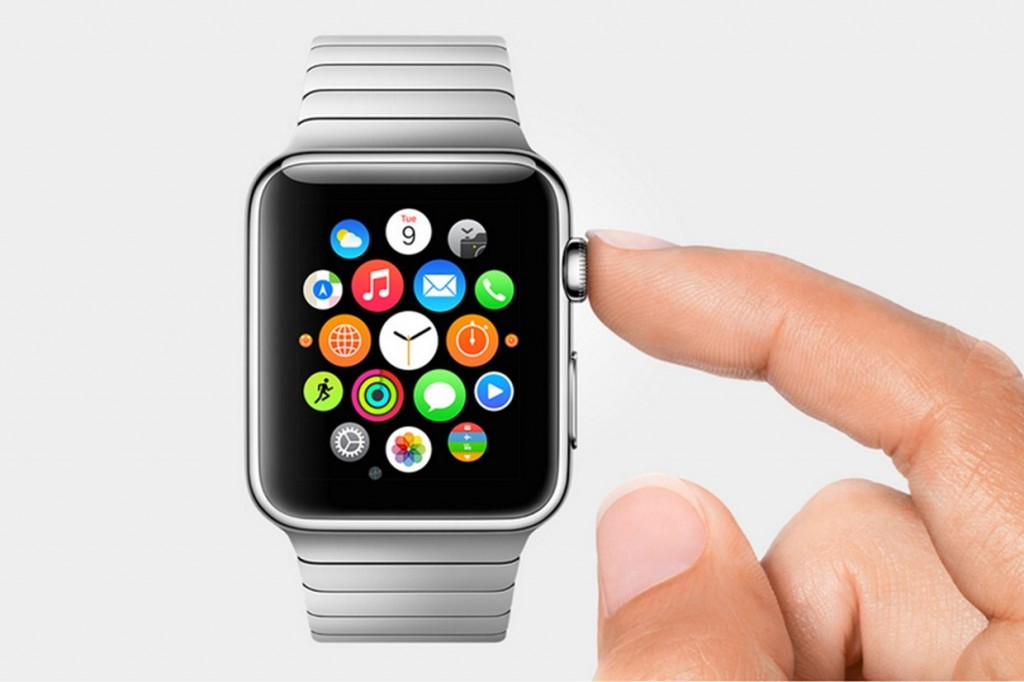 That said I'll be covering the event live with commentary on all announcements made via the Youtube channel.
As far as what can we expect regarding the Apple Watch lets take a look at what we know first.
What We Know:
Three Models-
There'll be three models of the smart watch. The Apple Watch (Base level), Apple Watch Sport (Fitness Model), and the Apple Watch Edition (High End Model).
Interchangeable Straps-
Each watch model will feature straps which can be removed & swapped out for leather, rubber, and various other materials provided by Apple & 3rd party companies much like a standard watch.
Apple Pay-
The Apple Watches will feature Apple Pay allowing you to pay with your watch in hundreds of locations around the U.S.
Apps-
Running a mobile version of iOS the watches will support apps specifically for the watch interface. Developers have access to a WatchKit in order to start app development.
Interface-
You'll be able to interact with the Watch via a touch screen or using the digital crown similar to what you'd use on a standard watch to adjust the time.
Sensors–
A set of sensors to monitor your physical activity will also be built in to the smart watch. Pedometer, heartbeat monitor, and so on.
What We Don't Know:
Price point-
The big question is regarding the price of the watch models. Estimated to range from $350-10,000+. The big issue here comes at the high end model the "Apple Watch Edition".  This is the first time Apple really is entering a luxury market, think of an actual watch thats built with 18K gold then add on the digital features. This is certainly a premium model & it's price can't be rightly gauged but more than likely we'll be seeing something in the 1k+ range. Some argue Apple will offer a sort of upgrade program for this premium model others state that it isn't like Apple to provide such a program. Then again its unlike Apple to offer a full 18K gold product to begin with. This smart watch is all new territory thats just now coming into public eye & anything can really go here when it comes to price on the Watch Edition. More than likely the Apple Watch & Sport will be the higher selling models for everyday customers.
Battery life-
Another big aspect of a smart watch is the battery life. Something you'd ideally be wearing all day needs to survive just that. Apple's CEO Tim Cook has already been quoted stating
wind up charging it daily
Due to constant usage of the device so we're estimating about 2.5-3.5 hours of usage at a constant rate. Obviously this would span out across the day if your using it on and off much like a phone. Heavier usage would drain it quicker but using at a glance now & again could certainly last you a majority of the day.
Ship Date-
At the event we'll be sure to hear the official shipping date of the devices. Early estimates were predicted that it would ship in April but with the event being held a bit earlier we may see a new launch date for specific models or a full scale rollout later in the month.
---
These are the big three questions that'll all be answered at the event. Alongside recapping the watches capabilities & Apple's strategy in this new market as they certainly aren't the only competitors in the space with tons of new products announced from LG to the all new Pebble.
Stay tuned for the official coverage & commentary come March 9th.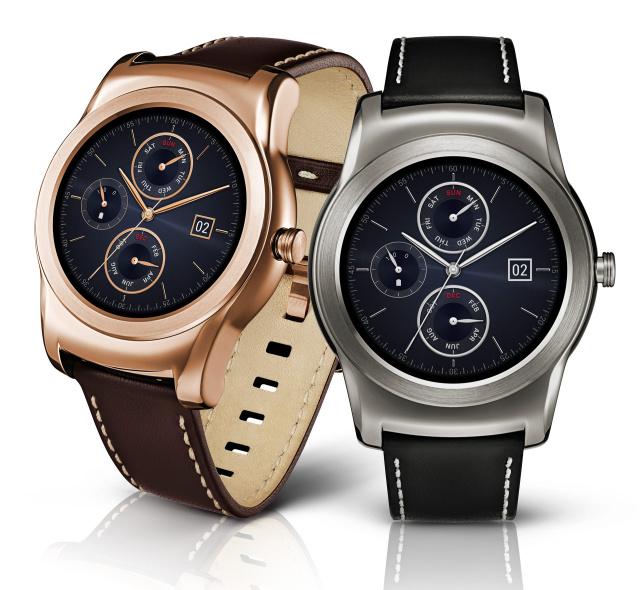 LG at the Mobile World Congress event unveiled the all new LG Watch Urbane. The Urbane is a fully functional smart watch running Android that is encased in a luxurious case coupled with a leather strap.
Urbane is housed with a OLED display of 1.3-inches & powered by a 1.2GHz Snapdragon 400 CPU with 512MB of memory. Currently available in the two iconic silver & gold finishes. As of current the pricing & shipping information is yet to be announced. LG's watch features an all metal design which is much more durable & timeless as far as aesthetics go. So far the long awaited Apple Watch coming in April is the closest we've seen to this sort of design. Urbane strikes this balance of a classy timepiece with the hardware & software of a 2015 smart watch.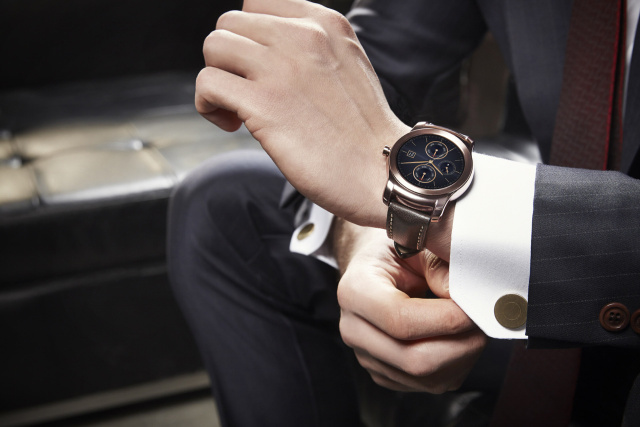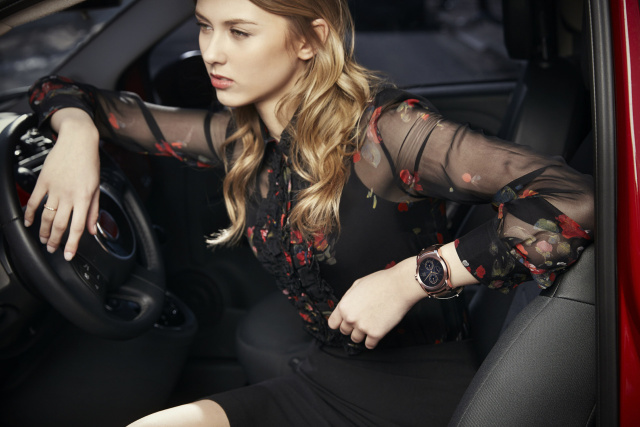 As a time piece enthusiast myself I really enjoy the simplistic approach to the design while coupling advanced technology in the watch. They're definitely advertising it as an everyday sort of wear be it for a casual or more formal like event. This is how I see a smart watch personally fitting into society. Something that is an extension to our technology we already have & exists in a seamless fashion of something that looks & feels familiar but functions efficiently.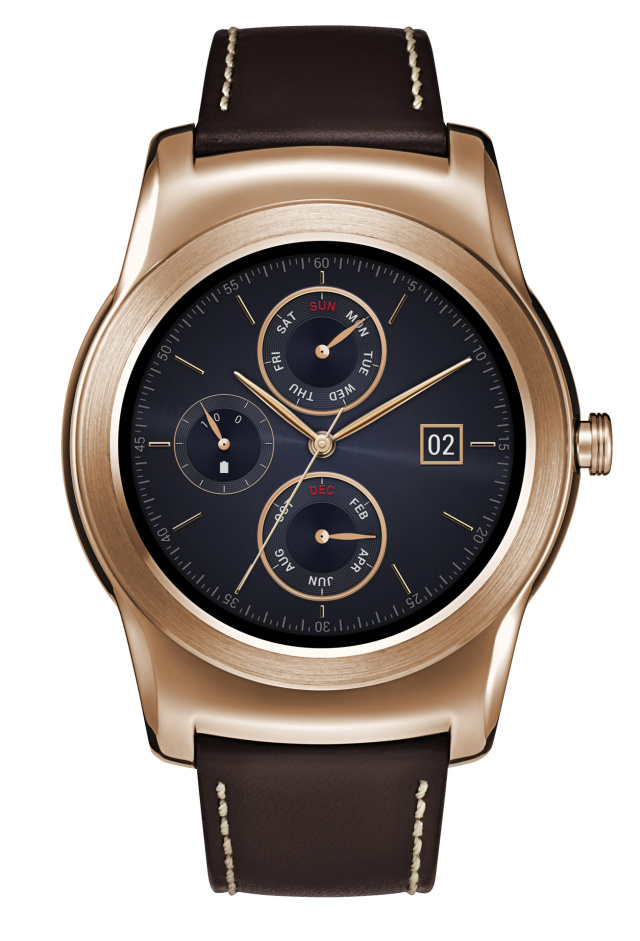 Further tech specs reveal it'll be sporting a 410mAh battery, the screen will featured a 320×320 resolution with a touch screen interface & possible navigation with the crown, a heart sensor, & will be water/dust resistance. Software wise it'll be running standard Android Wear.
All in all this is the technology smart watch culture clashing with the classic time piece & producing something that is not only visually appealing but highly technical & useful at its core. As time goes on & the rest of the competitors ramp up production of their smart watches we'll see how the space plays out. Until then LG Urbane watch certainly sits up there with Apple's Watch in terms of elegance & sophistication while being coupled with great technology.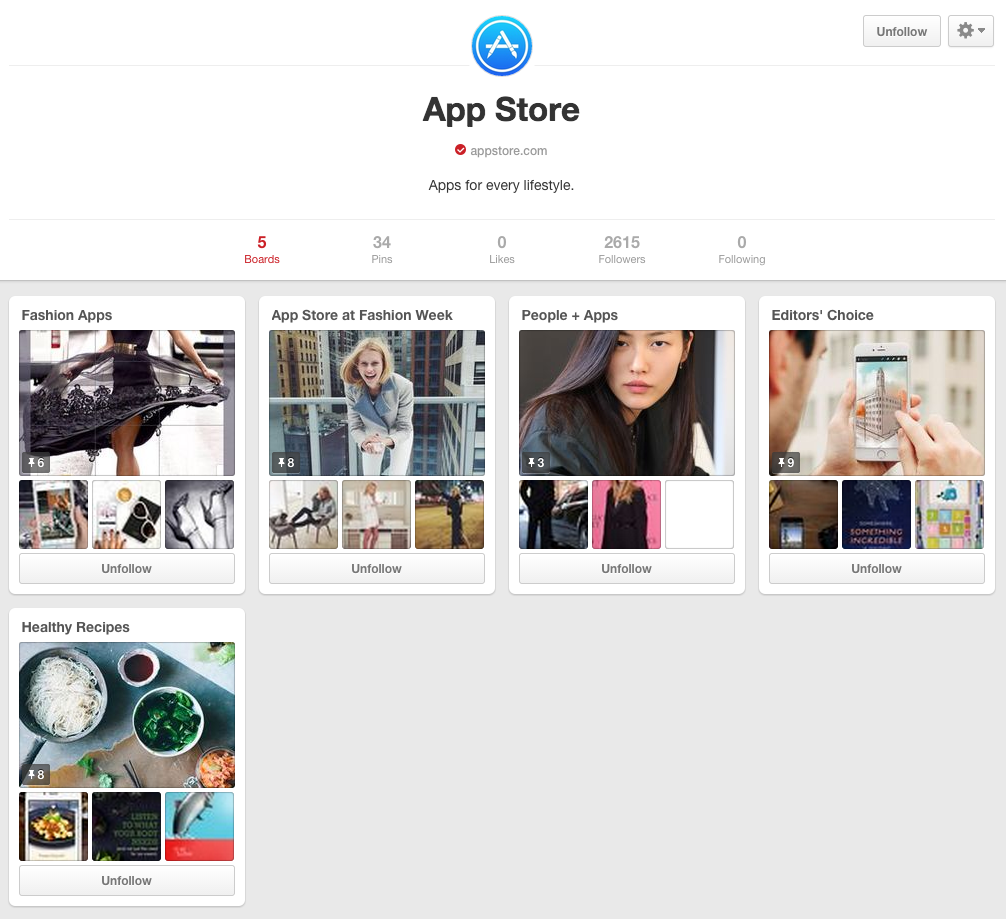 The popular social networking site Pinterest thats popular for its visual pin boards now adds a new feature "App Pins". This feature allows for users to add apps to their pins which adds an install button that does allows the app to be downloaded without being taken out of the Pinterest experience.
Apple in conjunction with this feature release has taken advantage by making an official AppStore board with their own pins of featured apps.
This all of course only displays within the iOS app itself. Taking you directly to the app page within Pinterest to download said app. The new feature can prove to be a big push for pinners to showcase apps they enjoy & use. On top of that with a very cluttered AppStore a platform like Pinterest which is highly known for its various categories of boards can take advantage of this feature to cut through the noise. As for Pinterest they could use this model in combination with the promoted pins & ad-market to make some revenue from the new feature. Their users get a feature that makes app discovery & installation seamless which seems to be the trend nowadays. The less friction from point A to B makes it all the much better for the user. With Pinterest growing future already on track to surpass Twitter, new features that enable users to find more of the content they want with ease only strengthens their network.
Any thoughts on the new feature? More over I'm sure we'll see creative ways users will integrate this features into their pin boards.
---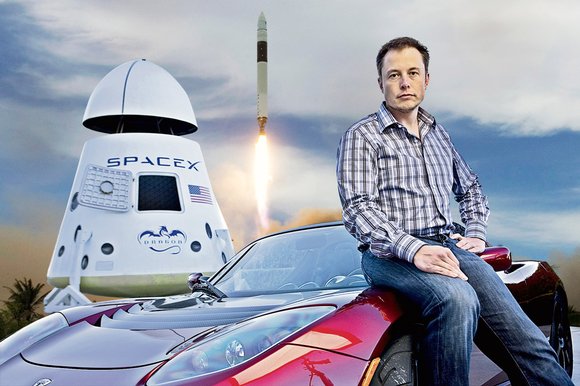 I decided to cover two stories that while in different categories are related in that they're both founded & ran by Elon Musk.
SpaceX a space exploration corporation successfully launched their Falcon 9 rocket out of Cape Canaveral. Set to launch earlier the event was delayed due to weather conditions & some technical difficulties. SpaceX hosted a live broadcast of the launch filled with updates on the condition of the launch along its venture into space.
DSCOVR is set to arrive the Sun-Earth L1 Lagrangian point (930,000 miles from earth) in about 110 days. The idea of course is to collect data such as imagery of Earth, weather conditions in space, and other various amounts of data. Certainly a big event by all means with little to no room for error.
That said other news articles published today criticize or question Musk's focus. Tesla shipping figures released showcase that they've fallen short of their 33,000 Model S goal only shipping so far about 9,384 automobiles. Which Musk has yet to address due to his attention of the Space launch.
Some going as far as calling out Musk for being distracted as Alex Kaufman of the HuffingtonPost stated
Now I fully understand Elon Musk has a responsibility to both companies & in turn the shareholders. But the man literally just oversaw a project to launch a rocket into deep space in order to get information that not many out there are doing & we're creating articles on how he seems distracted?
TheVerge had their own article on the matter sub-headline reading
As the company reports poor earnings, its CEO appears distracted
Again I understand Musk is spread thin but still has to answer for the earnings but "distracted". A man who servers as CEO for both SpaceX, Tesla, and a chairman of SolarCity I think has the right to be a bit distracted. Literally changing multiple avenues in the world of technology & yet we're critiquing him what taking on too much? As Musk has stated multiple times Tesla was never going to be profitable. Thats not their goal. It'll take a lot of money & some adaptations before its profitable. He certainly has to answer for what went wrong in the shipping department as his role of CEO & face of the company. However I think for an individual of his stature & the things he's trying to achieve he deserves a bit more than being taken as "distracted" or what he's tweeting about. Sinking that low to me is what deprives the world of its innovators. Anytime anyone tries to step out of the box to achieve something out of the ordinary & takes on the risk themselves much like Musk did we criticize them for trying.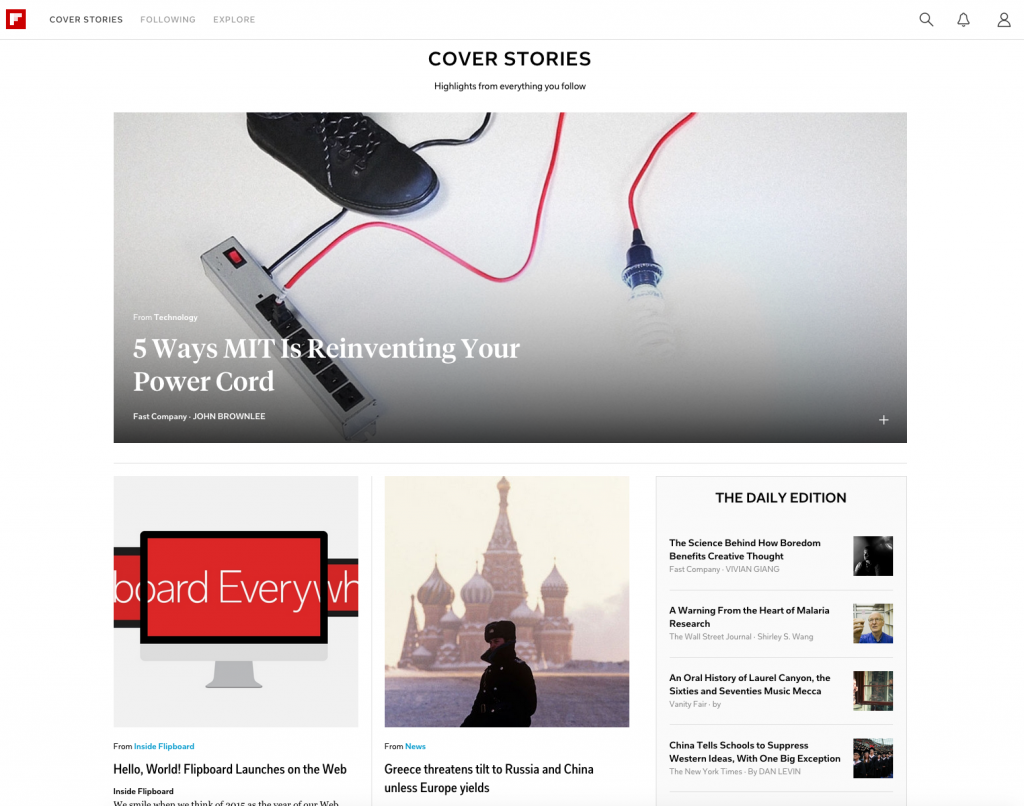 The popular RSS reader FlipBoard known for their mobile apps now comes to the web. A mobile RSS reader that combines form & function into a online magazine interface. The team has now released an official web version that couples the mobile apps very elegantly. It's RSS for the everyday user. You can simply sign in with your FlipBoard login, Gmail, or Facebook. Greeted with a visual experience of cover stories & topics you follow.
It's RSS for the everyday user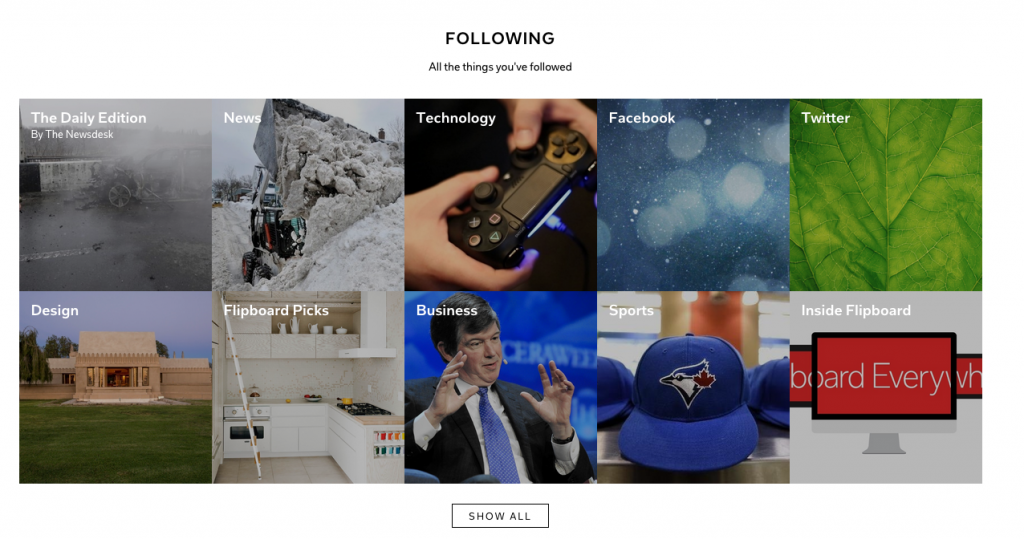 The interface is broken down into three sections. Cover stories, Following, and Explore. The cover stories where you'll be spending a majority of your time is filled with a ton of visual elements scattered with other tiny elements such as "Friends of FlipBoard" & "Magazine Makers". Combining the social elements with your news readers. See what others are making & digesting with a simple click.
You also have the ability to follow other users to see their "magazine". A magazine is a FlipBoard curated by other users so you can follow their interests or daily reads. This can be anywhere from people to topics such as Technology, Sports, and so on.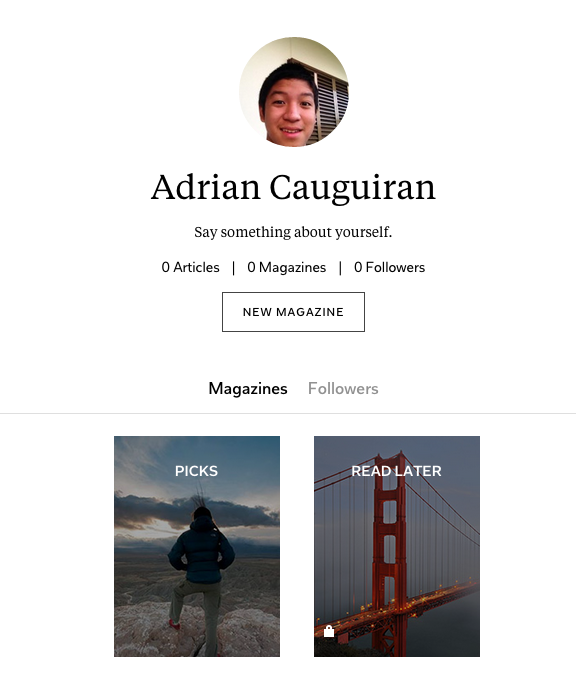 Coupled with that is a profile page that displays all your articles, magazines, and followers.
Last but not least is your explore tab. This is where you can find all sorts of new content to follow & explore the FlipBoard community. With over 34,000+ topics in their library & thousands of more magazines your bound to find something.
Whats best about the new design is responsiveness.Reducing the window to a smaller size automatically resizes the stories to your window. Making the whole experience seamless & easy on the eyes. Showcasing the topics, comments, and "flips". You can hit the plus button on each post to flip it into your own magazine or read it later list to save for later or share with others.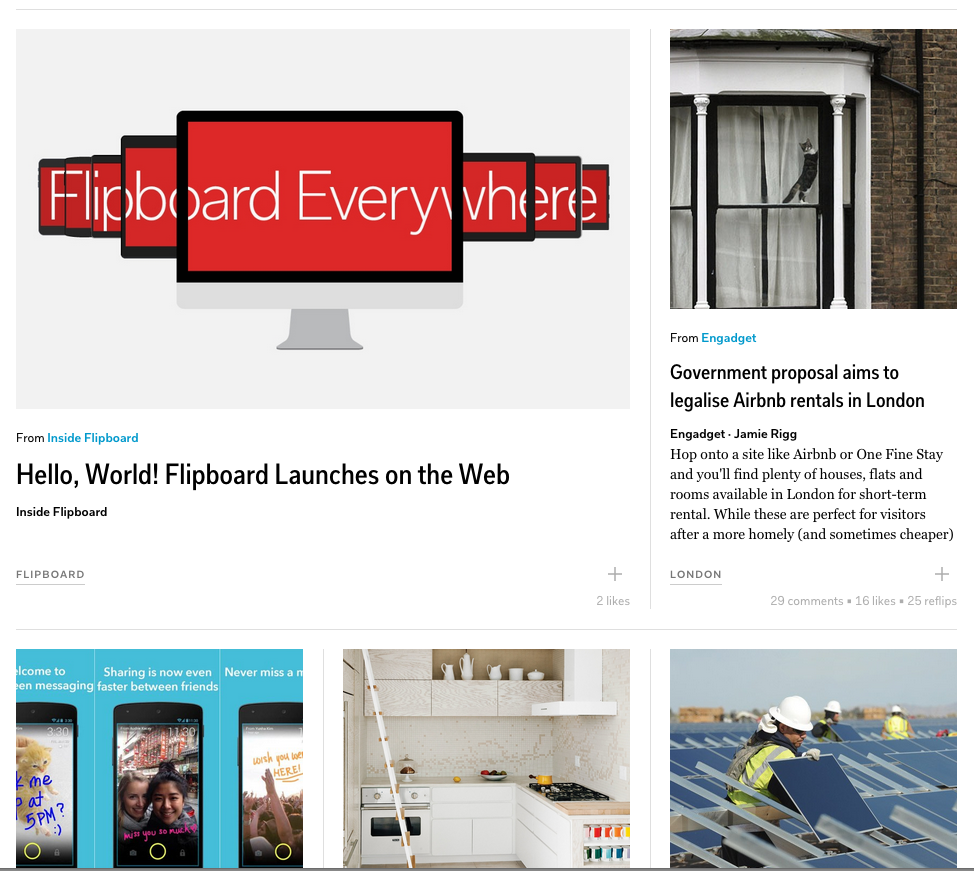 Clicking on each story brings you to the source site for you to enjoy the full article. Overall the FlipBoard team did an amazing job on the web version of an already brilliant designed app. The technical know how that went into building said site is really interesting & something you can read about in its entirety from Michael Johnston an engineer on FlipBoard.  As he states
Now we're coming full circle and bringing Flipboard to the web. Much of what we do at Flipboard has value independent of what device it's consumed on: curating the best stories from all the topics, sources, and people that you care about most. Bringing our service to the web was always a logical extension.
If your already a FlipBoard user than this is definitely worth checking out as a companion to their mobile apps. Additionally if you've been searching for an RSS service thats easy to use & combines that social element with an overall elegant interface then this is the service your looking for.

Famous watch maker Swatch known for their iconic affordable & unique timepieces are set to enter the digital space. Competing head to head with the smartwatches latest competitor Apple who's set to release their Apple Watch this April.
The Swiss watchmaker CEO Nick Hayek has stated they'll launch their smartwatch within the next three months. Backed with 30 years of experience & understanding of the watch space they want to offer high tech devices that couple the traditional timepiece with technologies such as NFC to communicate with other devices & support mobile payments.
On the other hand Apple's watch is set to premier at $350 USD price point with multiple models in their line up. Running a version of iOS tailored for the device. Swatch has stated their devices will run on both Android & Windows based software.
It'll be interesting if anything to see Swatch spin on the smartwatch, certainly a category thats beginning to get some recognition in the market. From Samsung's Galaxy Gear to the LG G watch. It's only a matter of months now till we see how well the customers react to this revived gadget that is the smartwatch.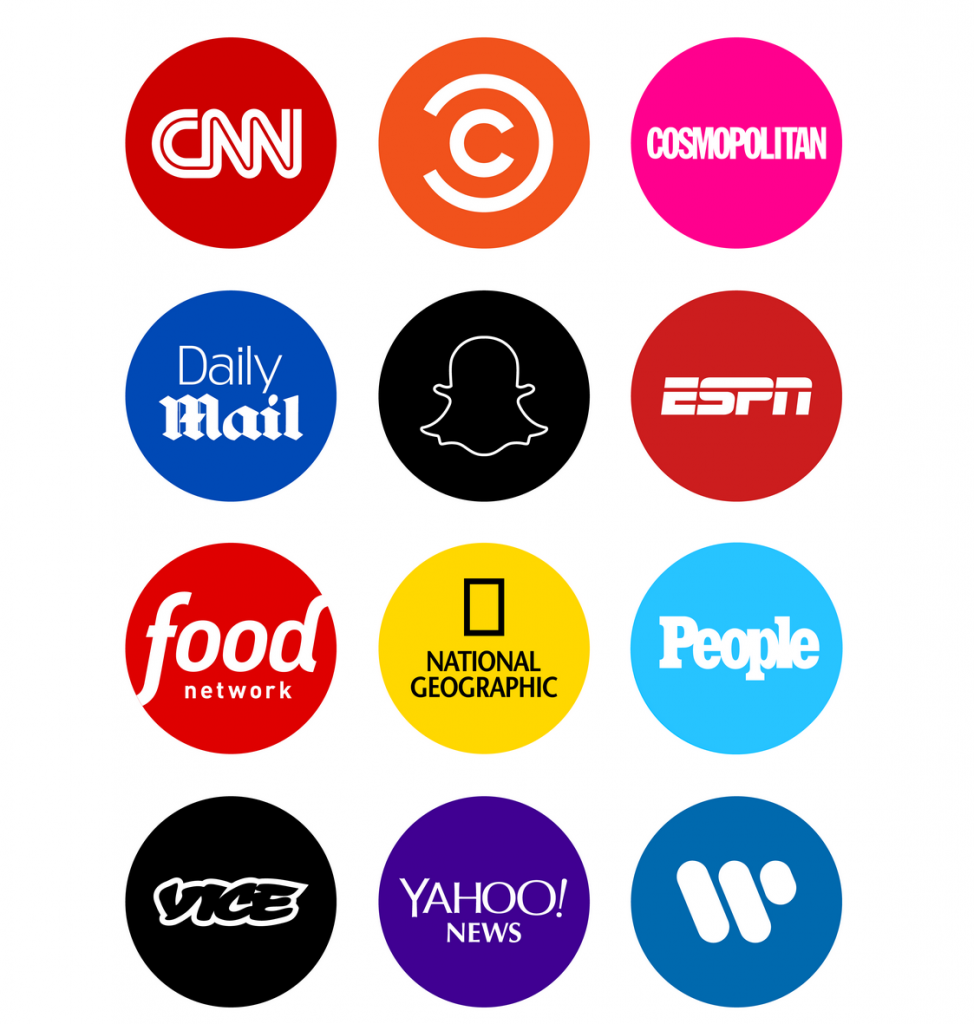 Video:
Snapchat recently released their all new "Discover" mode in the last update. This is both a monetization platform for the network as well as a dive into the news business. Discover is a way for users of Snapchat to discover ongoing news topics from various networks including CNN, People Magazine, MTV, and more in a very Snapchat-esque format. Simply swipe right to your stories page to find the new discover button in the top right of the app. This then opens bubbles corresponding to all the networks available as of launch.
Once in the discover mode you can easily swipe through the news headlines/videos. Swiping up goes to the full article or content, swiping to the right goes to the next headline, and lastly swiping up takes you back to the discover page.
Essentially a news outlet or snapchat story for these many networks. Surely this also allows for advertisement/monetization for the platform. What really stands out is the ease of use & navigation behind all of it. Something most users who use Snapchat daily will be comfortable with. Integrating news in the already popular network. To me this captivates the audience who are used to short form content in a very appealing user interface. While most users may not normally have a news reader app or open CNN or MTV if its a swipe away within their favorite social network then why not. I feel Snapchat is used to see whats ongoing in your world. Your friends, their stories, and sharing yours. This discover mode lets you take that one step further & consume whats going on in the world in all too familiar format.
As their blog post on the release of new feature depicts:
Discover is different because it has been built for creatives. All too often, artists are forced to accommodate new technologies in order to distribute their work. This time we built the technology to serve the art: each edition includes full screen photos and videos, awesome long form layouts, and gorgeous advertising.
It'll be interesting to see how Snapchat expands upon this.